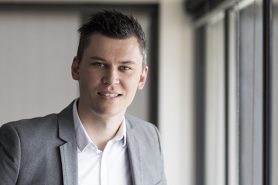 SYDNEY – Business Manager of WorkFocus Australia's Sydney and Illawarra offices, Michael Blore, was today announced as a finalist in the third annual icare NSW 2017 Care & Service Excellence (CASE) Awards.
Shortlisted in the 'Young Care & Service Professional of the Year' category for under 30 year olds, Michael has focused his whole career on helping people to recover their health, get back to work and reclaim their lives.
The icare NSW media release states that the awards "showcase the outstanding achievements of individuals and teams in providing better outcomes for injured workers and employers".
Corina Della-Posta, Divisional Manager for WorkFocus Australia said she would be hard pressed to think of a worthier recipient.
"Michael started with WorkFocus Australia as a graduate in Orange. Today, he is Business Manager of our Sydney office, leading a team of 38 to return 716 people to meaningful work each year. We are delighted his hard work and client focus has been recognised by icare NSW as they celebrate these prestigious awards."
The winners will be announced on 29 November 2017.