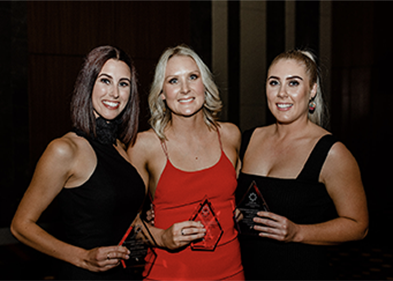 PERTH – WorkFocus Australia was recognised with five excellence awards at the Western Australian 2018 Australian Rehabilitation Providers Association (ARPA) Awards, which took place in September.

With finalists in all seven categories, we were the proud winners of five awards:
Di Okulicz – Outstanding RTW Achievement (Psychological Claim) – making it three from the past four years
Olivia Chittick – Outstanding RTW Achievement (Physical Claim)
Penny Monks – Outstanding Consultant – Same Employer
Leah Clark – Outstanding Consultant – New Employer
WorkFocus Australia – Innovation in Return to Work
Divisional Manager for WorkFocus Australia, Corina Della-Posta said the wins show how committed the WorkFocus Australia team members are to supporting people to sustainably recover from injury or illness and return to work.
"Of course this recognition is a great celebration of our year-on-year award-winning work. Congratulations to our five winners, and also to our finalists – Amanda England, Jason Vowles, Stefanie Italiano, Masha Boskamp and Lauren Cooley. You are all delivering amazing results for our customers and clients.
"In fact, I also want to acknowledge all the amazing work every single person in WorkFocus Australia does every day in getting people back to work. Each person we help back to work is a person whose life is back on track – and our work often has just as much impact on families and workplaces. It is our privilege to support people to recover."