Ensuring Australia's First Nation peoples receive recovery and return to work support
WorkFocus Australia acknowledges the Traditional Custodians of the land upon which we live and work, and pays respects to Elders past, present and emerging. We recognise that the health of our people is connected to the health of our planet. We value access and inclusion and seek to listen, learn and build strong partnerships. We aim to provide genuine opportunities for Aboriginal and Torres Strait Islander peoples within our workforce and through our business.
Specially tailored service for Aboriginal and Torres Strait Islander Peoples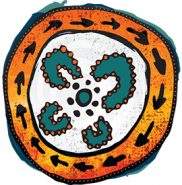 We offer a specialist approach through our Aboriginal and Torres Strait Islander Recovery and Return to Work Service.
As well as being able to access all our other programs and services, Aboriginal and Torres Strait Islander workers who are navigating a workplace injury or illness can reach into their rich and unique culture to overcome the challenges of recovering and returning to work.
We work with the person we are supporting to deliver culturally appropriate services and help to recover all aspects of life following a workplace injury or illness. We know the power of meaningful work to improve the lives of the people we support, their families and communities. That's why we are passionate about ensuring our service:
is culturally appropriate
acknowledges and incorporates family networks and history
provides community engagement; and
works with the individual to design the best approach following an injury or illness.
This map attempts to represent the language, social or nation groups of Aboriginal Australia. It shows only the general locations of larger groupings of people which may include clans, dialects or individual languages in a group. It used published resources from 1988-1994 and is not intended to be exact, nor the boundaries fixed. It is not suitable for native title or other land claims. David R Horton (creator), © Aboriginal Studies Press, AIATSIS, and Auslig/Sinclair, Knight, Merz, 1996. No reproduction without permission. To purchase a print version visit: www.aiatsis.ashop.com.au
We continually strive to build our understanding
We respect that this is a service which requires specific skills and appreciations. All our consultants and members of the leadership team have completed the Aboriginal and Torres Strait Islander Cultural Competency course via the Centre for Cultural Competence Australia.
We also continually leverage the experience and knowledge from our consultants who support Aboriginal and Torres Strait Islander peoples to ensure we are delivering a proven, reputable service. Each person we support is a partner in their own recovery.
The Aboriginal and Torres Strait Islander Recovery and Return to Work Service provides:
a dedicated consultant trained in Cultural Competence
respect and appreciation of cultural customs and beliefs which may impact return to work and recovery
community support from local Aboriginal and Torres Strait Islander councils and medical centres
strategic Return to Work planning
mentoring and support services
supportive employment placement
ongoing communication and guidance between all key stakeholders
"WorkFocus Australia's Aboriginal and Torres Strait Islander service is an organisation who walk side by side with their Aboriginal brothers and sisters. Walking side by side is what Aboriginal people have only ever wanted in all aspects of our lives and to have a service who doesn't walk in front or behind you is what our workforce needs for Aboriginal employees. WorkFocus has been the guiding light for me in all aspects of my career from Social, Emotional, Spiritual and Cultural well-being and is holistic in its approach as well as client-centred. The success of WorkFocus's service has been in its ability to clearly explain the unfamiliar processes and procedures involved in the Work Cover process, which has allowed a bond of mutual respect and trust to be formed with myself and the Rehabilitation Consultant."
ROBERT REID
Weilwan and Kamiliaroi man
We are committed to creating relationships, understanding and respect with Aboriginal and Torres Strait Islander peoples and have documented this commitment in our Innovate Reconciliation Action Plan (RAP) 2017-19 (PDF Document). By ensuring equitable and inclusive access to our services and employment opportunities, we bring life to life our mission and values.
Make a referral for someone you know who may benefit from our Aboriginal and Torres Strait Islander service or for more information, please contact our service leader, Mei Ling Yong on 1300 570 181.
*The featured WorkFocus Australia Aboriginal and Torres Strait Islander Service logo has been developed by Justine Kinney from Independent Indigenous Design Agency Cultural Creative and is used with permission. No unauthorised reproduction permitted.
WorkFocus Australia is in a period of consultation with Aboriginal and Torres Strait Islander organisations to ensure the service will optimally meet the needs of the Aboriginal and Torres Strait Islander peoples we seek to support.