NSW – Rehabilitation Consultant Ellen Watson has won the icare CASE Award for Outstanding Individual – Care & Service
icare's annual Care and Service Excellence (CASE) black-tie awards ceremony and dinner held on 7 November 2019 gave rise to massive celebrations as WorkFocus Australia's Rehabilitation Consultant, Ellen Watson was announced as the winner for "Outstanding Individual – Care & Service".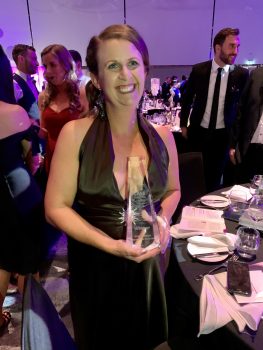 Ellen Watson is a Physiotherapist who has packed a lot into her blossoming career. Previously working for NSW health in the hospital system in regional NSW, Ellen has applied herself throughout her working career towards helping members of the community.
A full-time working mum of three and working weekends in Tamworth Hospital, Ellen focuses her efforts on helping people to recover and return to work. In her two years with WorkFocus Australia, Ellen has spent endless hours on the road, tirelessly establishing a well-respected presence and relationship with local community suppliers from all industries resulting in over 148 clients being returned to meaningful health and well-being with a return to work (RTW) rate of 92.6%.
On a day to day basis, Ellen not only represents but enhances the reputation of the industry by being a beacon of our organisations holistic approach to building better lives through work and health.
Congratulations Ellen on a well deserved win.